QOC Clothing & More

Printer-friendly version

Send to friend

PDF version
ShareThis
QOC Jerseys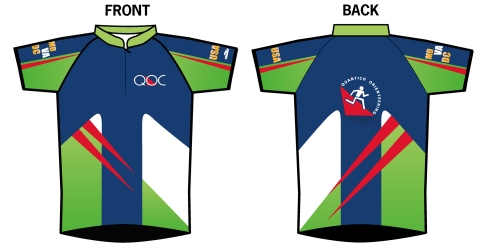 Our new custom QOC jerseys are made by o21e using dye sublimation technology. Unisex sizes run Youth S/L, and Adult XS/S/M/L/XL, and the jerseys are short sleeved with a collar and front zipper.
Quick Dry or Mesh? There are two fabric options to choose from for your jersey, Quick Dry or Mesh. The Quick Dry is a soft moisture-wicking fabric, comparable to our former/current jerseys from AxisGear. The Mesh is a quite open breathable mesh fabric which is relatively snag-free and therefore durable. Feel free to check out the o21e video which focuses on the durability of the Mesh fabric. Once ordered the jerseys are expected to take 6-8 weeks to produce, meaning we expect them to arrive in late February or early March.
Pre-order Price $49: Click here to pre-order your QOC jersey by December 31, 2012. You will need to know your size and which type of fabric you prefer. You can also indicate if you'd like to pick up your pre-ordered shirt in person at an event, or for an additional $5 shipping charge, have it mailed to you. If you don't know or remember your size as determined when you tried on the sizing kit please contact Kathleen Lennon. We will not be able to take pre-orders after December 31, 2012.
Inventory Price $60: Won't or didn't pre-order? We will order some extra jerseys and will be selling these at $60. Once we receive them we'll update this webpage and will also be showcasing them at various local QOC events.
QOC Racing Singlets
These breezy racing tops are manufactured by Champions Systems and made of CS Tech polyester wicking fabric. All size and styles are the same cost: $32. Women's singlets tend to run a bit on the small side.

Women's cut, sizes in stock: (Med, XL, XXL and XXXL)
men's cut, sizes in stock: (Med, L)
Note: If you have pre-ordered your singlet but don't have it yet, find Kathleen at an upcoming meet to get your order. We have already distributed (and mailed) almost all of them.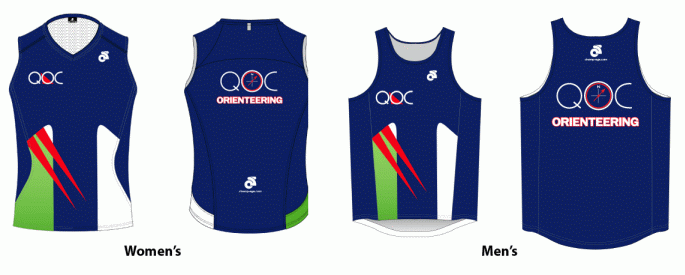 Pants

Compass Point and A & E Orienteering.
QOC Maryland License Plates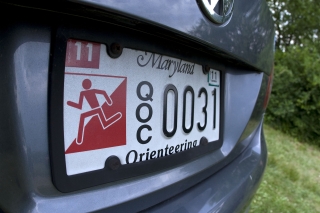 As the first orienteering club in the world with this privilege, QOC members with vehicles registered in Maryland are able to show their enthusiasm for orienteering with QOC's own custom license plates. All it takes is one form plus a check for $25, sent directly to the Maryland MVA, and they will mail you the next available number as your very own set of QOC tags along with new registration stickers. To receive the form, just request an application kit from our Publicity Director and of course feel free to ask any additional questions about this exciting program.
P.S. Many of you have asked why QOC only has specialty tags from MD, and not VA. The reason is that the requirements vary by state, and VA's minimum first order is 350.