Cabin John

Printer-friendly version

Send to friend

PDF version
ShareThis
December 16
Saturday
Welcome back to one of our family-friendliest orienteering venues - and one that still has plenty of navigational challenges for all levels. Course stats and course setter comments are now posted below. Note that the registration area for this event will be Pavilion H, almost directly north of (and near) the Train Station; a locator map is posted below.
Event timing will be standard: register at the event anytime between 10:45am - 1:15, start anytime between 11 - 1:30, and make sure to finish and check back no later than 3pm. Electronic timing will be used, so make sure to return borrowed timing chips at the download/finish station.
This is a small and relatively heavily used area, but it has a number of nice pockets of forest and will present challenges for beginners and experienced orienteers alike.
As usual, youth groups and other large groups planning to attend this event should contact the Event Director well in advance so that we can coordinate pre-registration for your group; the group registration and waiver form is part of the information on our Group Leaders page.
Reminder: Do Not Drink From the Water Containers. It is unsanitary. Use the cups that we've placed at each water stop. We don't care if it does take you a few extra seconds (you're not racing for a medal anyway!). And if you see someone putting their lips on an open water jug, feel free to report it to the Event Director, who at their discretion may speak with (and disqualify) the offender.
Additional information:
Please make sure to read the course setter comments below.
Watch out for the Train! Yes, given dry enough weather we expect that the quite popular miniature train ride will be running, and although you can run faster than it goes, and you might even be able to leap over it, it's still poor form to scare kids by rushing out of the woods at them as they ride the train. On the other hands, if you're bringing young kids, read up about this ride on this page.
Carpooling is encouraged as a courtesy to other park users.
Dogs on leash are welcome, but must stay off athletic fields and tennis courts. There is also a fenced doggy exercise area in another area of the park.
GPS watch loaner program continues, for anyone interested in trying one out. See Jon Torrance at the event.
Feel free to use our Contact Us form if you have any questions!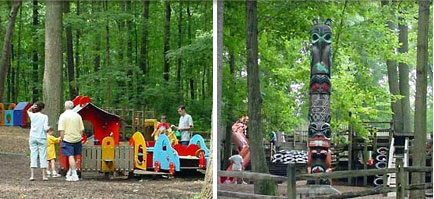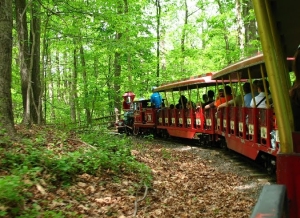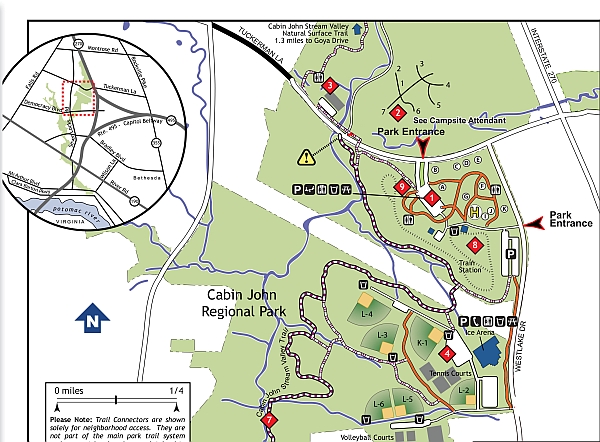 Location

Cabin John Regional Park, Playground Parking Area, Bethesda, MD (Classic)

Registration
No advance registration required. Just show up and have fun!
Start Times
You may start your course at any time during the start window listed below for your event.
Schedule
Saturday, December 16

| | |
| --- | --- |
| 11:00 am - 3:00 pm | Classic: |

Volunteers
Location Details

Classic
Cabin John Regional Park
Playground Parking Area
Bethesda, MD
Google Map

From the East: Take I-270 North from the I-495 Beltway, exit at Old Georgetown Rd (going north), and then immediately work your way left on Old Georgetown to turn left on Tuckerman. Turn left into the park after the underpass. From the South: Take I-270 North from the I-495 Beltway, exit at Democracy Blvd, going west. Turn right on Westlake (at the Exxon/Shell station), then eventually left on Tuckerman. Turn left into the park very soon after the left turn onto Tuckerman. From the North: Going south on I-270, exit at Montrose Rd (west). Turn left to go south on Seven Locks, then eventually left (east) on Tuckerman. Turn right into the park before the second traffic light (and before the underpass).

Course Details
Classic

| | | | |
| --- | --- | --- | --- |
| Course Name | Length (km) | Climb (m) | No. Controls |
| White | 2.5 | 40 | 10 |
| Yellow | 3 | 85 | 12 |
| Orange | 4.4 | 135 | 14 |
| Brown | 3.8 | 135 | 12 |
| Green | 5.8 | 220 | 16 |
| Red | 7.6 | 250 | 19 |
| Blue | 8.7 | 285 | 23 |

Course Notes
Classic

It has been dry and many mapped water features may be not actually contain water!

Blue, red, green, and brown courses will cross Tuckerman Lane. The time between controls on either side of the road will not count towards your total time. This is to encourage safe crossing of a busy road. Please be careful.

Please do not hop the fences around the train tracks near the start and finish.

We have made some important map updates for this event, but there are vegetation areas that have changed. Gaiters and a dry change of clothes (for when finished) depending on how you choose to cross the creek, are strongly recommended. Blue and orange courses have mandatory creek crossing at the southern end of the map. This is to avoid erosion control areas. It is a logical crossing anyway, and has an added benefit of keeping your feet dry.

Entry Fees
Individual Entries

Note: juniors = under 21

| | | | | |
| --- | --- | --- | --- | --- |
| | Club Member, adult | Club Member, junior | Non-Member, adult | Non-Member, junior |
| Epunch Owner | $5 | $5 | $10 | $5 |
| Epunch Borrower | $10 | $5 | $15 | $10 |

Team or Group Entries

Participants are welcome to compete together as a single team entry. Teams containing one or more nonmembers are charged the nonmember individual rate. Teams containing one or more adults are charged the adult individual rate. For teams to receive member or junior rates, all members of the team must be members or juniors, respectively. Each extra team map beyond the first is an additional $2. Individuals or teams desiring to compete on a second course can do so for a reduced fee of $2/map.

Important Notes

At the event, we can only accept payment in cash or check; online, you may use a credit card or PayPal account.
If you have access to a smartphone, you may become a member at the event by joining online via this webpage (which also explains the member benefits). Membership is completely optional. If you wish to join or renew, we strongly recommend joining (or renewing) online before the event rather than at it to save time and because it's easier.
Most of our events use an 'epunch' timing chip for electronic timing. Individuals or groups without their own epunch pay a higher entry fee (see above), which includes the loan of an epunch for that event. Loaned epunches that are lost incur a $40 replacement fee. Epunches (also known as SI-cards or finger sticks) are usually available for sale at each event as described here.
Former QOC members who have let their membership lapse pay non-member fees.
Compasses are available at no charge, but if lost incur a $15 replacement fee.
Please provide collateral (driver's license or car keys) when borrowing a compass or epunch.
For additional safety, whistles are available for sale at $1/each.
Free beginner instruction is always available - just ask at the registration table.